Do you need your order by a specific date and have concerns? Please call us at 866-899-FLAG (3524)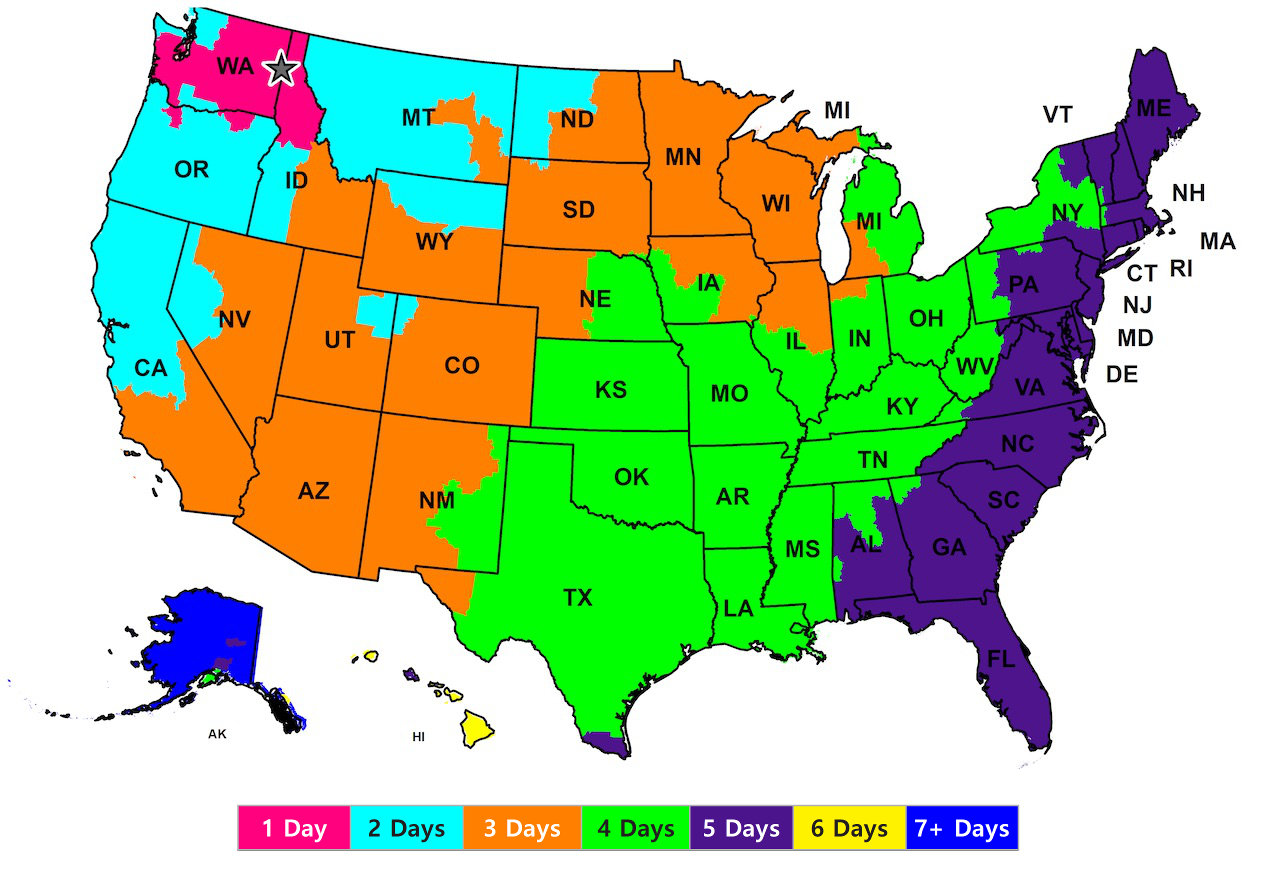 Please note that the above map shows estimated transite times for FedEx Ground and while typically accurate they are NOT guaranteed. Nor do we have control or are we liable for the delays of your package once in the hands of FedEx. Order cut off dates are valid for flags, and flags plus staff wraps. Orders with custom print items may have an earlier cut off date.
We strongly recommend ordering well before the dates listed below. This will save you the stress of getting the flags right before the holiday or afterwards if delayed due to stock or shipping
Standard Order Processing Times
Product
Processing Time
Flags only
1-2 Business Days
Flags with Staff Wraps
1-2 Business Days
Flags with Wraps & Business Cards
3-5 Business Days
Flags with Wraps & Post Cards
4-7 Business Days
If you choose the option to have us attach business or postcards to your flags, please note that it can add 5-15 days to the shipping of your order. Due to overwhelming demand, we typically cut off the option to have us attach cards 2-3 weeks prior to each holiday.
Memorial Day 2023 Order Cut Off Dates For FedEx 2nd Day Air Shipping
| Order Cut Off Date | Estimated Arrival |
| --- | --- |
| 5/23 | 5/26 |
Memorial Day 2023 Order Cut Off Dates for FedEx Ground Shipping
| Region Color | Order Cut Off Date | Estimated Arrival |
| --- | --- | --- |
| | 5/18 | 5/26 |
| | 5/19 | 5/26 |
| | 5/22 | 5/26 |
| | 5/23 | 5/26 |
| | 5/24 | 5/26 |
July 4th 2023 Order Cut Off Dates For FedEx 2nd Day Air Shipping
| Order Cut Off Date | Estimated Arrival |
| --- | --- |
| 6/27 | 6/30 |
July 4th 2023 Order Cut Off Dates for FedEx Ground Shipping
| Region Color | Order Cut Off Date | Estimated Arrival |
| --- | --- | --- |
| | 6/22 12pm pacific | 6/30 |
| | 6/23 | 6/30 |
| | 6/26 | 6/30 |
| | 6/27 | 6/30 |
| | 6/27 | 6/30 |

Labor Day 2023 Order Cut Off Dates for FedEx Ground Shipping
| Region Color | Order Cut Off Date | Estimated Arrival |
| --- | --- | --- |
| | 8/22 | 8/30 |
| | 8/23 | 8/30 |
| | 8/26 | 8/30 |
| | 8/27 | 9/2 |
| | 9/2 | 9/2 |
September 11th 2023 Order Cut Off Dates for FedEx Ground Shipping
| Region Color | Order Cut Off Date | Estimated Arrival |
| --- | --- | --- |
| | 8/29 | 9/7 |
| | 8/30 | 9/7 |
| | 8/31 | 9/7 |
| | 9/4 | 9/7 |
| | 9/5 | 9/7 |